Wrangler National Finals Rodeo presented by Polaris RANGER with a haul that he only could've imagined in his wildest dreams.
The 26-year-old from Redmond, Ore., captured the bareback riding world title, the WNFR average championship and the RAM Top Gun award.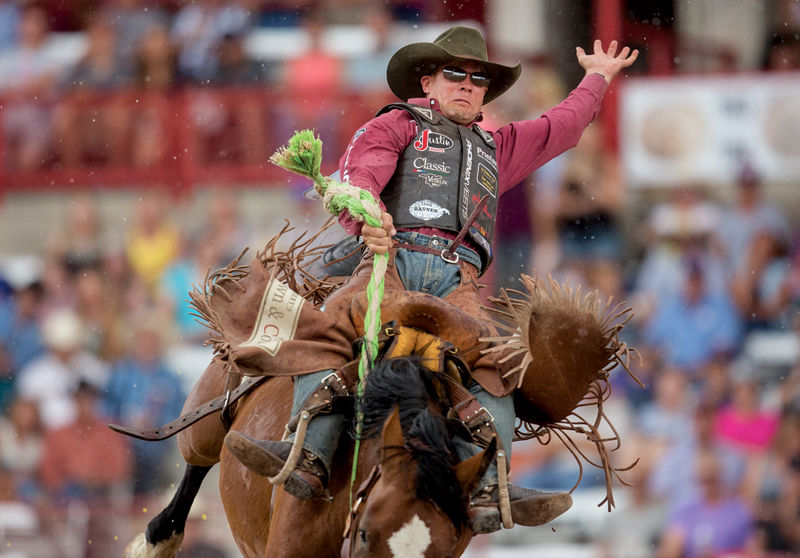 Peebles rode for 83.5 points on Pete Carr's Classic Pro Rodeo's Good Time Charlie to split the Round-10 win and move ahead of four-time World Champion Kaycee Feild by $10,523 after Feild failed to earn a check aboard Frontier Rodeo's Times Up.
"I tried not to get any butterflies before I got on my horse, and I wanted to have a lot of energy and fight," Peebles said. "I stared at the horse and just kept saying to myself, 'He isn't faster than me. He isn't faster than me.'"
The horse was just the right speed for Peebles, who was simply thankful to be alive and competing in Las Vegas. He almost lost his life in July after suffering a broken rib that nicked an artery and filled his lungs with blood at the Livingston (Mont.) Roundup. He was rushed to the hospital and made it without a moment to spare as doctors were able to drain his lungs and save his life.
They have the same last name, but are not related.
Yet, bareback bronc riders Tim O'Connell and Shane O'Connell have the same goal for today – winning their first-ever Cheyenne Frontier Days Rodeo championship.
The 120th finals of the CFD Rodeo starts at 12:15 p.m. today.
Tim O'Connell, from Zwingle, Iowa, is ranked No. 1 in the world standings, but his 164 points on two rides is five points behind leader Orin Larsen of Gering, Nebraska. He has earned a little more than $106,000 this year, and has a $20,000 lead in the world standings. Larsen is in fourth place.
"Everyone wants to be in the driver's seat going into the finals, especially here at the Dad, but I like where I'm at," Tim O'Connell said. "There will be 12 great horses out (today), and it's just going to be a spurring contest. Orin's one of the best guys in the world, and so are the others. The best guys in the world show up to Cheyenne.
"I've been to the short round once, and I'm awful tickled to get back."
The steer wrestling lead changed hands almost nightly during the 10 rounds of the WNFR, but when the dust settled tonight, Hunter Cure had captured his second gold buckle in three years. Cure – who also won the world title in 2013 – split second place in Round 10 with K.C. Jones with a 3.9-second run to win $18,192. He also moved up to second in the WNFR average with a 52.1-second time on 10 head to capture the gold buckle with $241,515. Dakota Eldridge won the average with 45.6 seconds on 10 head, but finished second in the world with $211,669.
"This was anybody's ballgame, and it was there for whoever was going to step up and take it," the 32-year-old Cure, from Holliday, Texas, said. "I felt like my horse (Charlie) had worked great all week long and my hazer (Matt Reeves) did an outstanding job, so I just needed to stay the course and work on my craft and see how it worked out in the end.
In his only other CFD finals appearance, O'Connell said he scored 86 points when he was a rookie in 2013. He said that ride placed him in the middle of the pack.
"The short round is amazing, fun and exciting. I'm blessed to be a part of it again," Tim O'Connell added. "It's every kid's dream to be in the finals in Cheyenne. You don't hear about San Antonio; Salinas, California; or Nampa, Idaho. All you hear about is Cheyenne and the Daddy of 'em All. It's a feeling of overwhelming happiness.
ary Freeman and Ira McKillip as they bring play-by-play rodeo to you via your handheld device, lap top or radio all week long during Cheyenne Frontier Days.
'Rodeo on the Radio' has been a long tradition on AM 650 KGAB. Gary and Ira bring you play-by-play action, history of the cowboys and cowgirls, along with the rules and regs of the rodeo.
Gary and Ira have a great broadcast chemistry and you'll be sure to enjoy the humor the bring to the airways as well. So, tune in from 12 noon to 3:30 pm every day through the finals on Sunday, July 30th with Rodeo on the Radio.